Welcome To Prairie Rod & Gun Club
The Prairie Rod and Gun Club is a not-for-profit organization established in 1948.  An annual membership allows members to participate in club activities and use of the rifle range.  A rifle and trap range is located at 62664 Mill Coulee Road about 4 miles north of Prairie du Chien off State Highway 35. 
Annual membership fee is $20.  A monthly newsletter is provided by viewing the website, e-mail, or mail.  Membership is required for use of the rifle range.  Guests of a member are allowed when accompanied by the club member.  See the range rules for additional information on range use.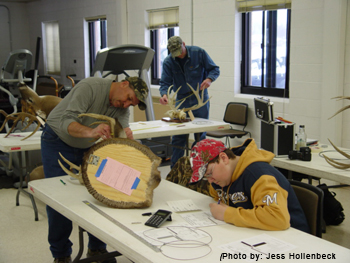 Our major fund raiser of the year is the annual deer show held the Saturday after Valentines Day.  An average of 150 deer racks and mounts and mounts of other animals are brought to the show.  Anyone bringing a deer rack or mount is eligible for a chance to win a rifle donated by Stark's Sports Shop. 
While the rifle range is open to members year around the trap range is only operational on Wednesday evenings from April to October.  Trap shooting is new to the club so expansion in this program is expected. 
Monthly club meetings are held the first Tuesday of each month with the location posted with the monthly newsletter. 
Membership Information
Memberships are available at the annual deer show on the Saturday after Valentines Day or at Stark's Sports Shop in downtown Prairie du Chien.  Memberships can also be purchased from a few members who have a supply of membership slips. The Prairie Rod and Gun Club membership averages 200 members per year.
Club activities include, but are not limited to: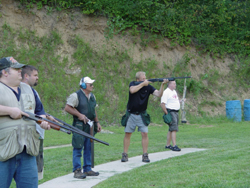 Wednesday evening trap shoots from April to October
Open rifle range all year
Maintenance of range as needed
Sponsor two Hunter Education classes each year in the Prairie du Chien area
Conduct an annual deer show that is our only fund raiser
Sponsor a Kids Casting Contest at the Crawford County Fair
Co-sponsor with the Prairie du Chien Parks and Recreation Dept fishing events for kids
Provide financial and physical assistance to Wisconsin DNR in trout habitat improvement
Conduct Civilian Marksmanship Program shoots with M1 Garand and other rifles
Assist with Mississippi River cleanup activities
Offer silhouette shoots with cal. 22 rifles and pistols
Maintenance and management of La Riviere Archery Range
Please visit our Contact page for more information on how you can join and participate in the Prairie Rod & Gun Club!
Click HERE for a printable pdf version of the Prairie du Chien Rod & Gun Club Mill Coulee Range Rules
Click HERE for Hold Harmless Form
January 3, 2018
Dear Fellow Sportsperson,
The 20th annual Prairie Rod and Gun Club Deer Show will take place on February 17th  the Saturday after Valentine's Day.  Past shows have been very successful, due in part by the participation of sportsmen and sportswomen such as yourself.  We have always had an excellent turnout of antlers and game head mounts that are displayed for all to enjoy.  This year we are once again inviting participants to bring in racks and head mounts, big or small, new or old, and other mounts from any animal taken anywhere, anytime. 
The show will be held at the Prairie du Chien National Guard Armory on Saturday, February 17th.  Registration will be from 6-9 p.m. Friday, February 16th and from 8 a.m.  to 2 p.m. on Saturday the 17th.   The show will end at 5:00 p.m. with raffle drawings at that time.  As in past shows no registered entrees will be allowed to leave until 5:30 p.m. on Saturday for security reasons and only after an exit inspection.  All entrees will be checked out as you leave the building.  If you cannot be present at 5:30 p.m. please make arrangements for someone to pick up your entree(s) at that time.   
Once again this year, anyone registering antlers or game head mounts for display will be entered in a drawing for a Henry Big Boy 45-70 lever action rifle donated by Stark's Sports Shop. 
There will also be raffles for guns, a sportsman silent auction, and vendors present during the show. Food and beverages will be available on site.  
The event is our club's only annual fund raiser.  Funds are used for various club projects including our efforts in the hunter safety program, the trap range and the rifle range. 
We look forward to your participation in this event.  Your efforts make this the great show that it is…….a celebration of our deer hunting heritage. 
Sincerely yours,
Curt Kramer